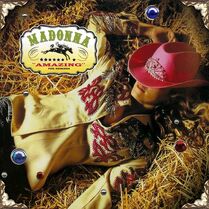 "Amazing" is the title of a song from Madonna's eight studio album Music It was written and produced by Madonna and William Orbit.
Song Information
Edit
Little is known about the origins of "Amazing" other that it was one of the many contributions from William Orbit to the "Music" album. Many fans consider the song to be practically a "filler" of the album, due to its rhythm and music, both extremely similar to those of "Beautiful Stranger".
Fourth single dispute
Edit
The "Music" album was both a critical and financial success, having already extracted 3 singles from it, the recording company decided it was time for a fourth. Madonna had her eyes pecked on "Impressive Instant" due to the popularity it had reached on club lists, but the company wanted either "Amazing" or "Nobody's Perfect" to be the album's fourth single, this lead to a dispute with Madonna who didn't wanted to record any video or anything that wasn't "Impressive Instant", the company decided they could make a compilation video for "Amazing" with footage from the Drowned World Tour, reason why Madonna pulled off "Amazing" from the tour's setlist and finally no fourth single was ever released.
Live Performances
Edit
Madonna hasn't performed "Amazing" in any of her world tours.